Sport Tech, Inc., a subsidiary of Ciconia, Inc.

Sports medicine professionals need to diagnose, treat and follow up millions of ligament injuries a year. To meet this need, Sport Tech's medical and technical staff has designed a non-invasive, easy-to-use, lightweight and versatile device for the assessment of ligament injuries. It can be employed in physicians' offices, hospitals, rehabilitation centers, training rooms and sports facilities.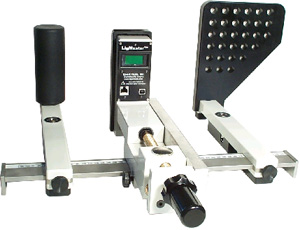 The LigMaster™  is an instrumented arthrometer that can provide fast and easy assessment of the extent of tear and remaining function in all of the clinically important ligaments of the ankle, knee, elbow and shoulder.
LigMaster™ measures the joint translation in response to an applied force and the software calculates the percentage ligament tear or laxity from the data collected by electronic sensors. The Windows based software runs on any PC or laptop with a USB port and displays the data and diagnosis in a clinical format. The examiner can access the collected data for further analysis if necessary.
The extent of ligament damage is determined by comparison with the opposite, normal joint or can be compared in time series, for example, before and after treatment to monitor ligament recovery, determine return-to-play, etc.